Successfully prepare for retail buyer meetings, new listings, and new items based on proven strategies.
This article will cover:
How to capture consumer insights to build confidence with retail buyers
How to create a winning sales presentation
What to cover in your buyer meeting and how to follow up to get the listing
The contents of this article are adapted from Alliance Sales & Marketing and Social Nature's webinar, Secrets to a Successful Retailer Presentation. Thank you Kirsten Barner and Jessica Malach for contributing your subject matter expertise.
Social Nature's 'How to Pitch to Retail Buyers Guide' inspired our team to distill our pitch deck to what buyers are actually looking for. We've used the new presentation to win new listings in major banners.  Thank you Social Nature!
Validate your product
Before walking into your buyer meeting, you want to have consumer confidence in your product. Your friends and family may love it, but what about the broader local market?
Retail buyers think about how a new product will meet the specific needs of a region. Validating your product will ensure that you have a great product that shoppers will want to buy again and again. If you don't validate your product, it might not have the sell-through that retailers require.
Here are three cost-effective ways to capture consumer feedback to validate your product:
1. Online surveys
You can use online surveys for initial concept testing. Survey shoppers in your local area. Ask them what they think of your packaging or what makes your product stand out. There are free and inexpensive tools you can use to survey, such as Typeform, Surveymonkey, or Google Forms.
2. Local farmers markets
Farmers' markets are a low-cost way to execute a regional-first strategy. You can set up a booth and build local relationships with consumers and the community. Turn this grassroots method into a data collection opportunity by using a QR code for shoppers to leave a review or feedback after their purchase.

3. D2C e-commerce sales
Launching D2C first is one way you can get the data you need to support retail expansion. E-commerce platforms like Shopify can give you the data you need to validate your product. You can get access to metrics such as the top-performing products and repeat purchase rates. In some cases, you can reach out to shoppers for a quick call or survey for their feedback. Incentivize them with a discount code or free product.
Some brands choose to launch on Amazon or platforms like Thrive Market. Both give you access to large markets where you can validate your products, pricing, sizes, and messaging.
Once you've captured consumer feedback and feel confident in your product, it's time to get a deeper understanding of your retailer.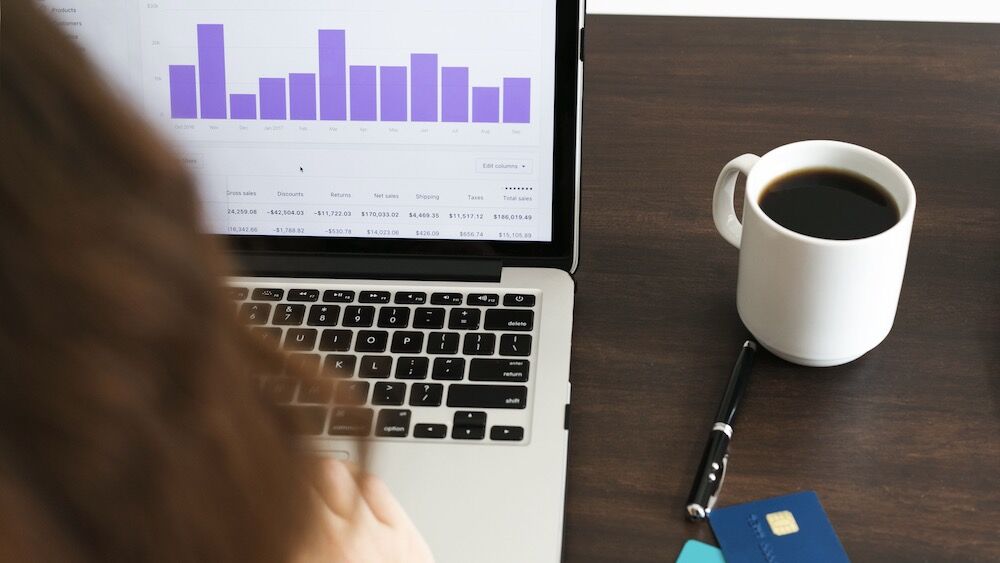 Research the retailer's go-to-market (GTM) strategy and target audience
Every retailer has their own business objectives and goals. The target audience they serve is different too. It's important to know your retailer's go-to-market strategy:
Product innovation prioritization
Product requirements (ex: ingredients or lack of ingredients such as "grain-free")
Pricing strategy
Promotion strategy
Here are four things you need to do to understand your retailer's GTM strategy and target audience.
1. Conduct a store visit
This is something free that you can do. Go to your retailer and walk the aisles. Get a sense of the space they allocate to your category, who your competitors are on shelf, and understand the product assortment. How can your product add to the retailer's portfolio?
You can also conduct a website visit. Look at the retailer's e-commerce and scroll through the categories. Look at the promotions to get a sense of their pricing and promotion strategies. See if they have any trade initiatives such as loyalty programs or coupon services.
2. Dive into category insights to understand your positioning
Analyze category insights to identify any gaps that your product can satisfy. Are there clear category voids? Are there innovation trends that are missing? Identify underperforming SKUs and make a case for how your product can fulfill this or meet consumers' needs.
Your store visits can give you a basic understanding of the categories. To get deeper insights, you can use IRI data, which is costly, or partner with a food broker. Food brokers can help you drill down data to the SKU level and further build your brand sales story.
3. Arm yourself with local data
Retailers care about how your product will meet the local region's needs. Arm yourself with local data that matters to the shoppers in the retailer's market. Understand the demographics and psychographics of your region. Identify any lifestyle habits or dietary preferences.
A food broker can provide you with this data, or you can get specific shopper insights from Social Nature's sampling campaigns.
4. Identify consumer demand by highlighting trends
Show the retailer that your consumers are their consumers — they shop at the  retailer in that specific region. You can find these insights through a broker, purchase reports or third-party data, or utilize insights from a Social Nature campaign.
Identify trends that show that your brand is timely. What attributes align your product with today's consumers? ? Some examples include:
Women or minority-owned brand
Sustainable packaging
Functional ingredients
Keto-friendly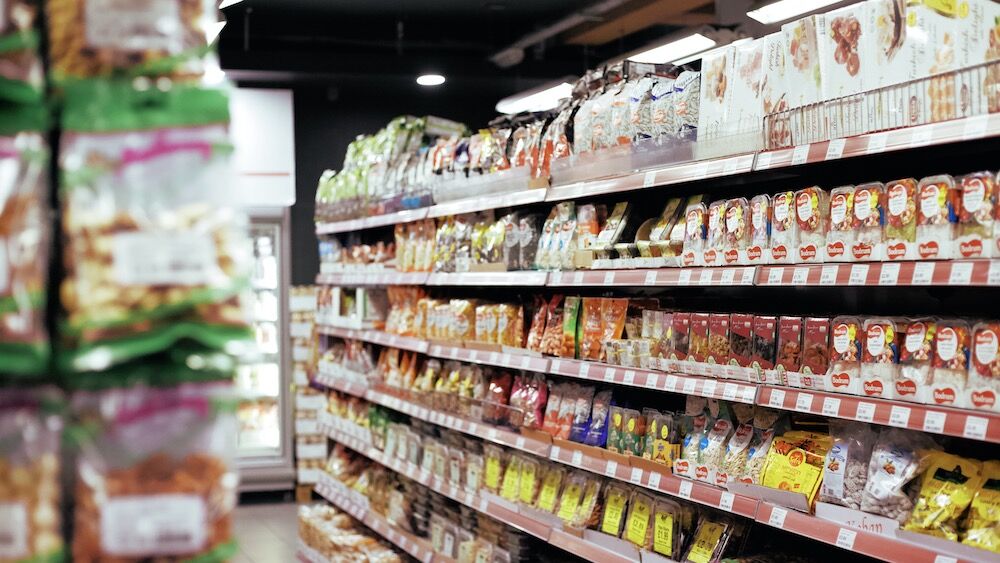 Understand the buyer's motivations

Remember, the buyer is another human just like you. They have incentives for their jobs and targets to hit.
Here's are six things that retail buyer's care about:
1. The retail buyer's bonus is often tied to category performance
Think about how your product will help them grow the category. More and more buyers are caring about category incrementality. This is when your product brings net new consumers to a category instead of having these consumers switch brand names.
For example, through post-trial surveys, Dr. Praeger's was able to understand what percentage of consumers who purchased their plant-based burgers were new to the category.
2. Slotting and margin requirements
The retail landscape is all about moving a high volume of products with thin margins. Thus, retailers are selective about the products they carry. It must make economic sense. Know the margins and slotting fees for your product, so that you can discuss it with your best price during the pitch meeting.
3. Making sales for the retailer
Retail buyers care about driving sales for their stores. To prepare for your pitch meeting, bring your projections and velocities. Share your dollar story and how fast the brand is growing.
4. Meeting consumer demand
Great! You likely have this info from validating your product. Now utilize the data that shows demand for your product in a specific region. Retailers want to know that you can move units from the first day you're on the shelf. If you aren't in-store yet, you can highlight D2C sales from a specific region.
5. Having a competitive advantage over other retailers
As your brand grows and gains distribution at different retailers, you'll start to understand which retailers compete with one another and the attributes they compete against.
6. Logistics and inventory
Retail buyers want to work with brands who can provide peace of mind logistically. Make sure you can provide on-time delivery and enough inventory to avoid out of stocks. If you are out of stock in the first few weeks, it can be extremely difficult to recover from.
Now that you understand the buyer's motivations, it's time to take a deeper dive into the retailer's shopper marketing programs.
Research the retailer's shopper marketing programs

Selling your products at retail means you're committing to a mutually beneficial partnership. So how do you create a successful partnership? By investing in the retailer's shopper marketing programs.
Getting your product on the shelf is the easy part. The hard part is putting in the work to move your products off the shelf.
Shopper marketing programs can be complex and they vary by retailer. They can have different loyalty programs, in-store promos, or work with different vendors to make these programs happen. Alliance Sales and Marketing can create and execute your complete shopper marketing plan, end-to-end.
Once you do your research, you want to outline a trade plan that includes shopper marketing programs for your product launch. Create a calendar that maps the promotions you'll have throughout the year.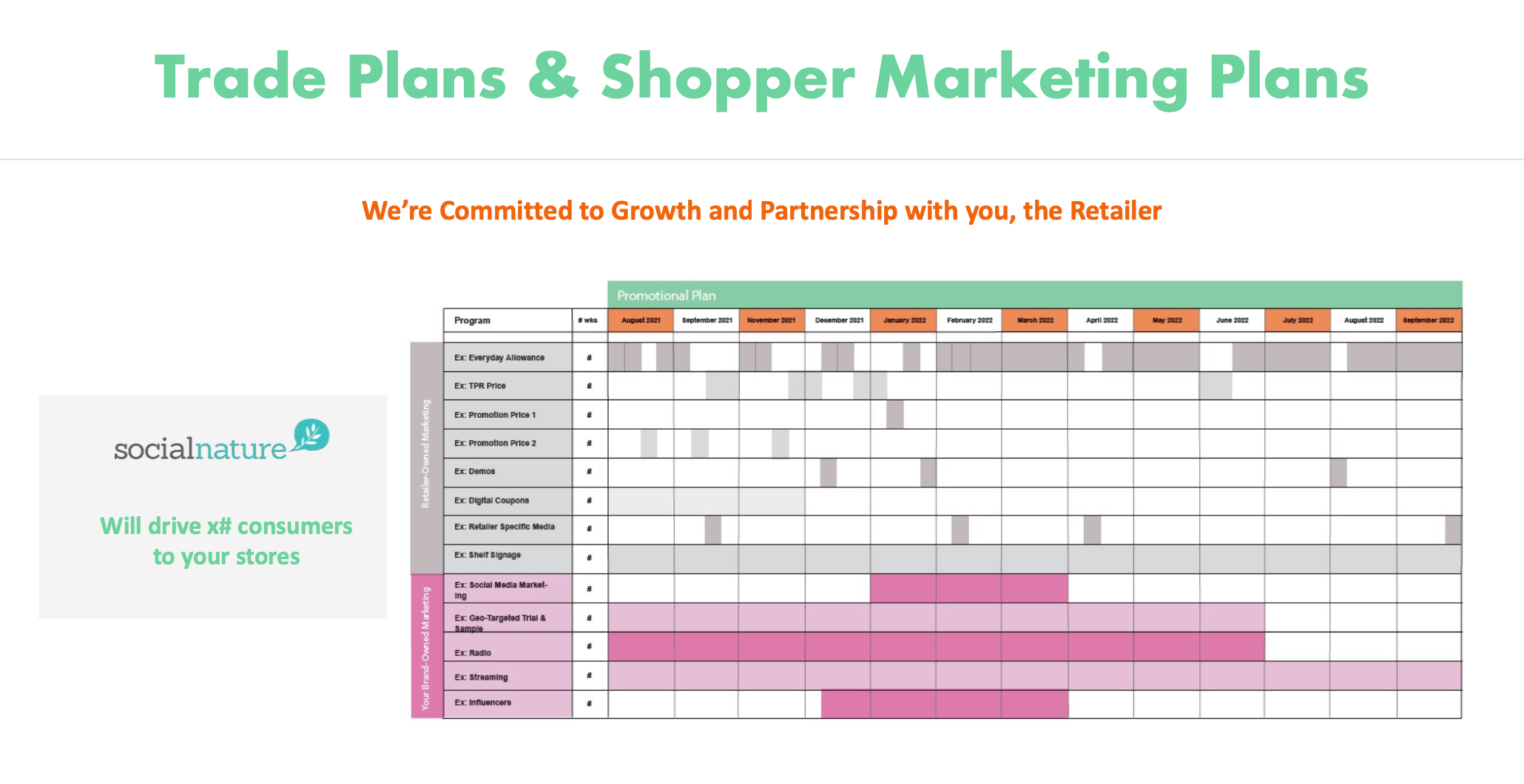 Retailers also want to know how you'll support them beyond their programs. Show the retailer how you'll generate consumer demand against the product launch. This could be digital activations like influencers and paid social, or in-person activations like pop-up events or field marketing. Retailers want to know that your plan will support demand, trial, and repeat purchase. Social Nature's digital product sampling can help you drive all three and are popular for launches at Whole Foods and Publix.
Lastly, keep an open mind and be flexible. Set aside the budget to participate in the programs you outlined. But understand that things can shift due to approvals, disapprovals, or new opportunities. For example, the retailer can offer you new placement and if it's a good opportunity, you'll want to have the budget and resources to jump on it.
Source and send materials to aid your presentation
You are so close to creating and presenting your retail pitch deck! Retail buyer meetings are a show AND tell presentation. You want the buyers to have a full experience – from sampling your products to seeing how it would look in their store.
Here's a checklist of what to you'll need to source and send before the presentation: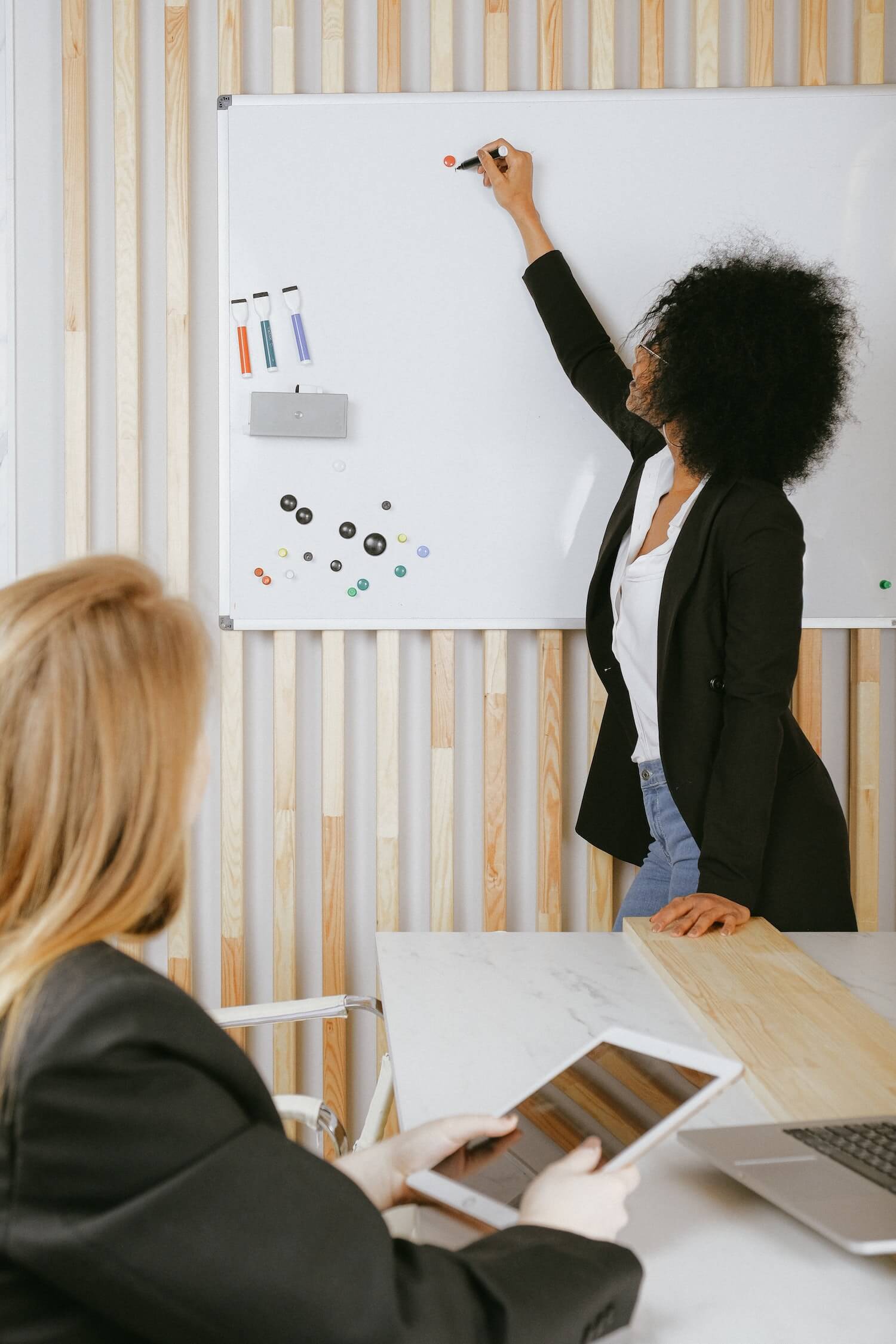 Now it's time to put together all the information you prepared into your retail pitch deck.
Step 2: Build your retail pitch deck with 10 elements
Retail pitch decks should be short and sweet. You want to be respectful of your buyer's time and attention spans. These sales presentations can last as little as 15 minutes to occasionally one and half hours. Buyers are looking for nuggets of information and concrete data that show why your product will succeed in their market.
We recommend your deck be no more than 10 pages.
This can vary by retailer or buyer. Some retailers have specific formats that they like to follow, so be sure to ask before you create your presentation.
For your retail pitch deck, here's an outline you can follow:
You can include a thank you slide and an appendix at the end. Keep the appendix to a minimum, as you don't want to overwhelm the buyer with a lengthy slide deck.
If you need a template, you can download this sample pitch deck from Alliance Sales & Marketing.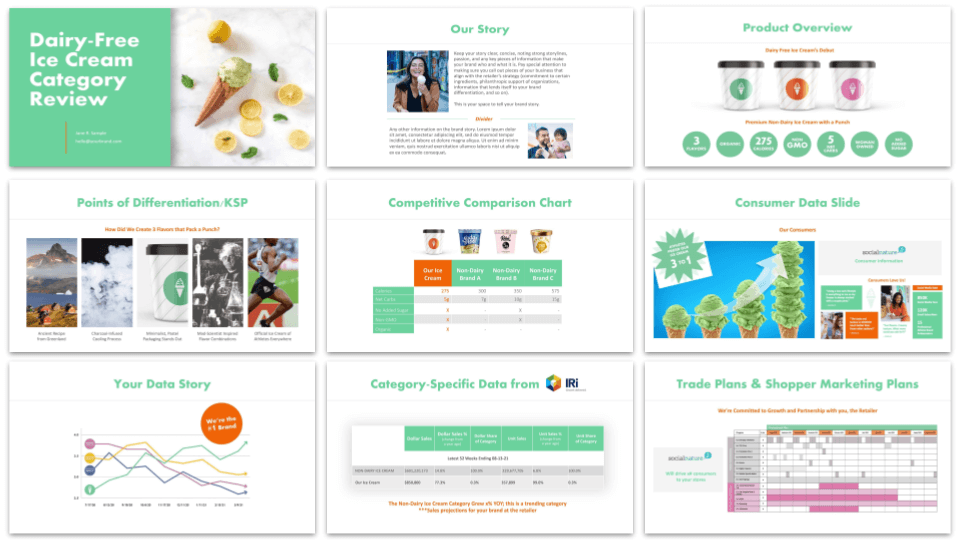 Here are some extra tips to ensure your sales deck is engaging:
Use bullet points, not paragraphs
Don't read each slide line for line
Include lots of visuals to illustrate your point
Show your passion and excitement – use some hand gestures!
Give a nod to R&D by showing your innovation pipeline
You're ready to rock this retailer presentation. We'll show you what you need to do to close the deal.
Step 3: Follow-up after the retail buyer presentation
Once your retail pitch is complete, you want to communicate next steps and expectations. Here are three things you need to do.
1. Ask about next steps during the meeting
Be direct with the retail buyer or category manager. Inquire about timings. This will help you to create a schedule for yourself so that you stay prepared for future meetings.
The retailer's expectations
Important timings
When resets, cut ins, and reviews occur
2. Send an initial follow up email within 24 hours
This shows that you're serious about getting on the shelf.
Thank the buyer or category manager
Supplement your communication with PDFs like sell sheets or any relevant info they requested
Recap what you discussed and highlight a date on when you'll follow up
3. Set reminders for yourself
Add due dates to your calendar and setting reminders for yourself will ensure you hit the agreed timelines. You'll know when to prepare for specific materials ahead of time.
You're now ready to pitch to retail buyers
Pitching to retail buyers is a big deal. Getting your product into a retail store is a big milestone for many emerging brands. Securing shelf space in mass retail is a big win as your brand grows and becomes known and loved by households nationwide.
We hope this guide on how to pitch to retail buyers gives you the confidence you need to succeed at your retailer meeting.
Many founders agree that getting your product on the shelf is the easy part. Moving those products off the shelf requires a lot more effort. If you want to learn how to execute a successful product launch, download The Complete Guide to Online-to-Offline (O2O) Marketing for CPG Brands.
Frequently Asked Questions About Pitching to Retail Buyers for CPG Brands
1. What is a CPG brand, and what makes it different from other brands?
CPG stands for Consumer Packaged Goods, which refers to products that are used daily and consumed frequently, such as food, beverages, and personal care items. CPG brands are typically sold in retail stores and are recognized for their quality and consistency.
2. Why is it important to pitch to retail buyers as a CPG brand?
Pitching to retail buyers is an essential part of the CPG brand's growth strategy. It allows brands to get their products in front of a wider audience and increase their visibility in retail stores. Additionally, retail buyers can provide valuable feedback that can help CPG brands refine their products and marketing strategies.
3. What are the key elements of a successful pitch to a retail buyer?
A successful pitch to a retail buyer should include a well-crafted product pitch, a compelling brand story, and clear details on product pricing, availability, and delivery. Additionally, it's important to research the retail buyer and their store to ensure the product is a good fit and can appeal to their target audience.
4. What are some common mistakes CPG brands make when pitching to retail buyers?
One of the most common mistakes CPG brands make is failing to do their research on the retail buyer and their store. This can result in pitches that are not a good fit for the store's audience, leading to rejection. Additionally, brands may not have a clear understanding of their target audience or their product's unique value proposition, making it harder to convince the retail buyer to take a chance on their product.
5. What are some tips for following up with retail buyers after a pitch?
Following up with retail buyers after a pitch is essential, as it shows that the brand is committed and interested in working with the store. It's important to be persistent but not pushy and to continue to highlight the unique benefits of the product. Additionally, brands should be open to feedback and willing to make adjustments to their pitch or product as needed.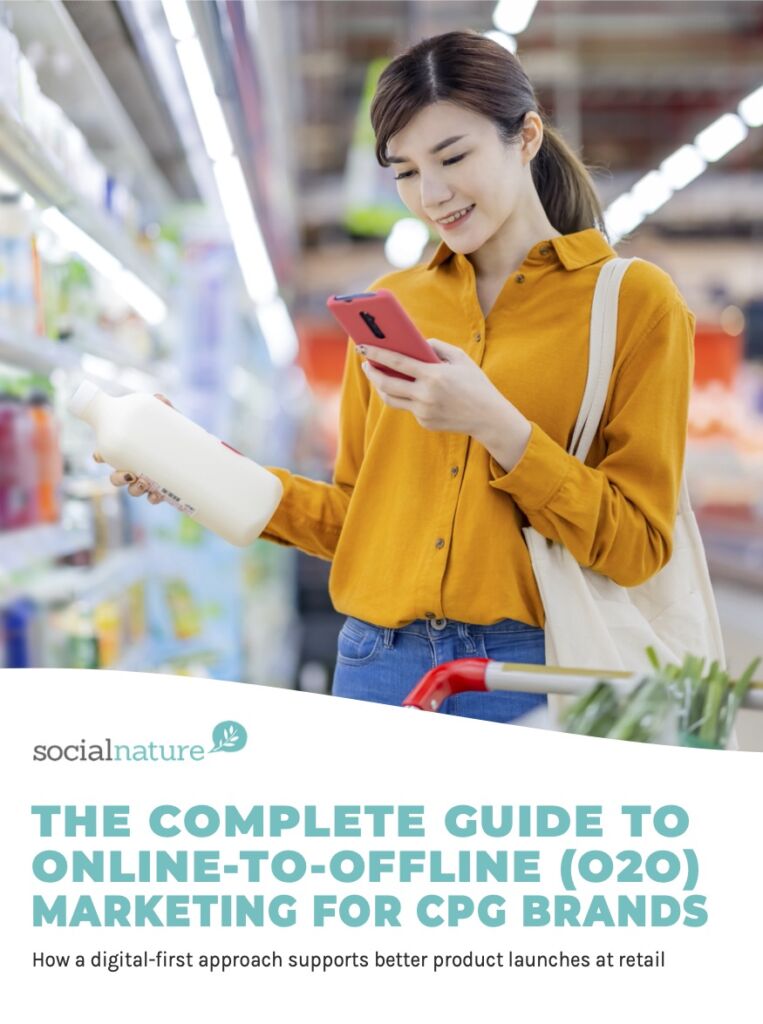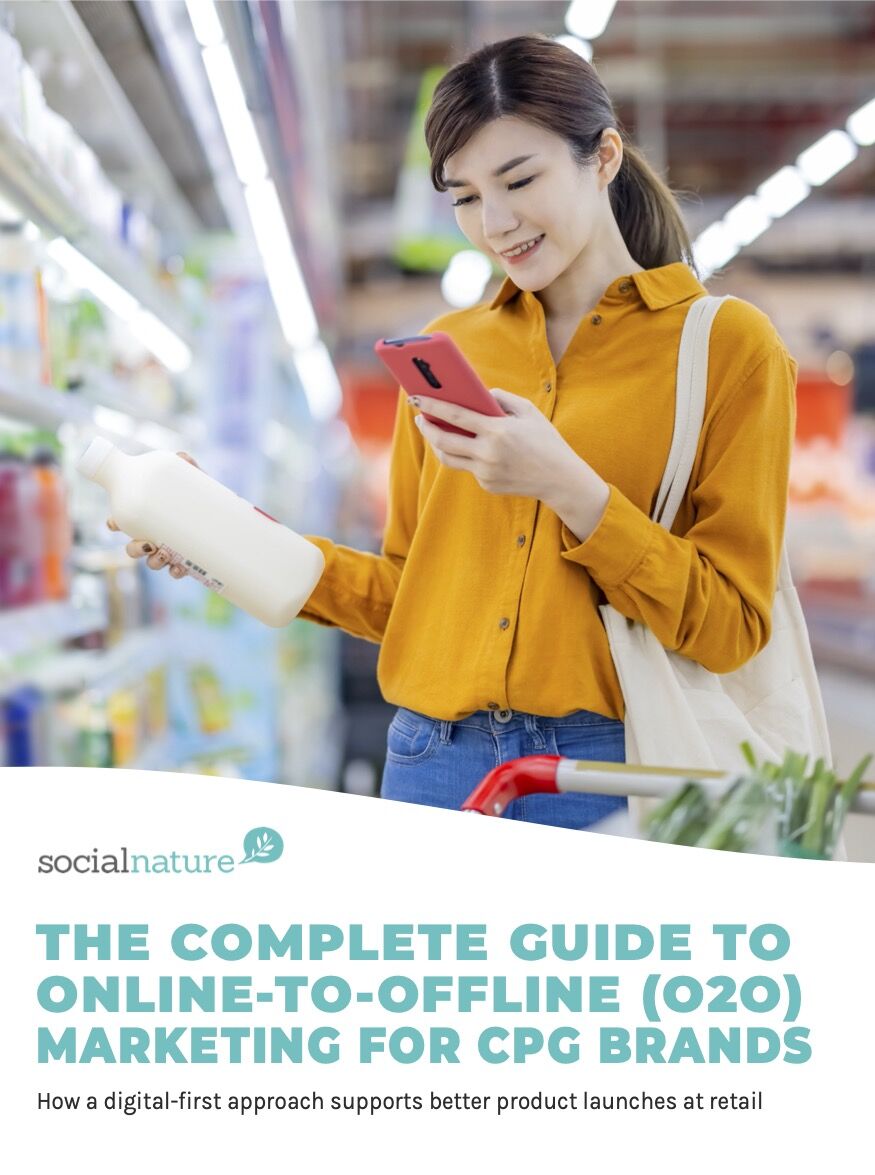 Get your free guide to O2O
To discover the remaining stages of the O2O cycle, you can download our free 50-page guide. It's filled with advice and tips from 17 CPG experts!